Why Marketers Need a Social Media Search Engine
A social media search engine should be a part of every marketing team's arsenal. If, for instance, you want to check if another brand in your industry has done something similar to a campaign idea you have, the search functionality available on social media sites is not very useful.
Here, I'll introduce you to a social media search engine and show you how it can make your job easier.
What is a Social Media Search Engine?
Social media search engines work like regular search engines. When you key in a term or phrase, it returns social media posts that contain it. The main difference is that these look only at social media posts.
There are different kinds of social search engines. Some help you find people on social networking sites easily. Pipl is one such site that gets you the different social profiles belonging to a person. This can be helpful in outreach efforts.
Other social media search engines usually get you posts, tweets, blog posts etc that contain a search string, including hashtags. Using these, you can find out what has been written around a particular topic.
However, it can be hard for social media marketers to sift through these results. There will be posts by people and brands, including news media. You cannot limit your search to brands in your industry or even just brands.
Have you met Discover?
Discover is a social media search engine like no other. Marketers use this on a daily basis to get their creative juices flowing.
Discover is different from other social search engines in the following ways:
The search results come from Unmetric's repository of branded content. You can search through over 500,000,000 pieces of content published exclusively by brands.
These results include posts from Facebook, Twitter, Instagram, and Pinterest.
You can pare down to the industry or region most relevant to you.
Discover allows you to sort the results based on engagement, reach, audience size or chronologically.
Identify the brands that have posted content around a topic. You can even look at all the posts a single brand has published around a keyword.
Most importantly, Discover alerts you about content creation opportunities that are coming up in your industry.
It is built to facilitate collaborative content creation. You can save posts to a board and share it with your team.
How does this help me do my job?
Data-driven approaches are key in social media marketing. Marketers are well aware of that. For this reason, they emphasize measuring and monitoring every aspect of what they post on social. Based on this historical data on engagement, reach etc, marketers can narrow down the strategies that work for them. Discover enables you to channel data-backed insights into your content creation efforts as well. Here's how:
Discover content opportunities
In the fast-paced social media space, you need to work at the speed of culture. Basing your content strategy on your historical data alone might not suffice. You need to be on the look-out for content opportunities that are popular in your industry.
For instance, if you are a North American automobile brand, here's the list of upcoming conversation opportunities Discover uncovers for you:
You can quickly find the topics that are trending as well as upcoming events and holidays. This way you can make sure that you don't miss out on these conversation opportunities
Engineer content strategy
So, as we discussed earlier Discover shows you what brands are talking about. But how can you use data to create compelling content?
Content and keyword research
First, Discover shows you what other brands have already published around a particular topic. You can look at any time period you wish, dating as far back as 2011. You can even sort them according to engagement markers such as likes, shares etc.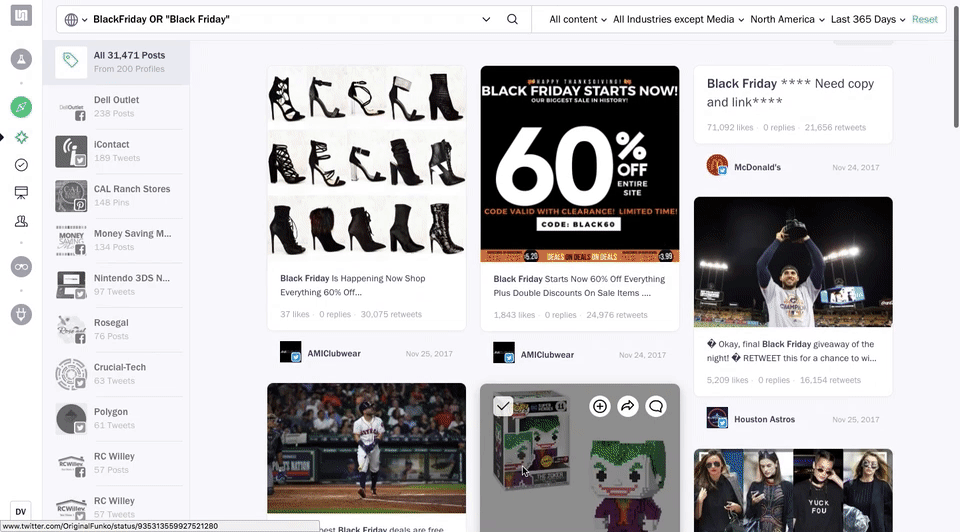 Along with these results, Discover gives you a list of brands that have posted the most around that topic. You can select a particular brand to see all the relevant content they've published. This is a great way to gain a deeper insight into the strategies of a peer or an aspirational brand.
Trends
You need to say the right things at the right time to get engagement on social media. For instance, if I started talking about Pokemon Go now (Oct 2017), nobody is going to care.
Before you start working on a piece of content around a particular topic, do a quick search on Discover. You can easily see the number of posts that have been published around it during the time period you specify. The volume of content as well as how engaging these have been is a good indicator of whether or not you should go ahead with that topic.
Further, you're shown the list of brands that've joined in these conversations and how many posts they've published around it. From this you can estimate how relevant the topic is to your industry and region.
Check for concept evidence
These features can also be used to check for proof of concept. That is, you can check how feasible a content idea you have is. You can explore of it has already been done and if so, how successful they were.
With a clear idea of what's been done and what scored engagement, you can create something distinct.
Explore white spaces
With the spread of social media, conversations are getting crowded. Brands find it difficult to say something new and stand out.
White space analysis involves identifying conversation gaps in your industry that might interest your audience. For instance, No Shave November is not a holiday you would associate with automobile brands. Check out how Jeep got great engagement talking about it:
Jeep's decision to chime in about Movember shows that they know their target audience. If a particular holiday is popular among your target audience, it makes sense to get some visibility in conversations around that.
Collect, collaborate and create
Use Pinterest-style boards to put all your ideas in one place and collaborate with your teammates. When you've found a piece of branded content you want to build on or seek inspiration from, add it to a board.
Boards can be shared with your teammates, who can add in posts themselves. You can collaboratively discuss ideas and decide how to go about creating your next piece of content. This is especially helpful for teams with members who work remotely.
In conclusion, Discover is the solution for every marketer who's ever wished for a Google for branded content. Using this social media search engine, they can create compelling content informed by data.