Why Marketers Need a
Social Media Search Engine
Darsana Vijay
October 31, 2017
A social media search engine should be a part of every marketing team's arsenal. If, for instance, you want to check if another brand in your industry has done something similar to a campaign idea you have, the search functionality available on social media sites is not very useful.
Here, I'll introduce you to a social media search engine and show you how it can make your job easier.
What is a Social Media Search Engine?
Social media search engines work like regular search engines. When you key in a term or phrase, it returns social media posts that contain it. The main difference is that these look only at social media posts.
There are different kinds of social search engines. Some help you find people on social networking sites easily. Pipl is one such site that gets you the different social profiles belonging to a person. This can be helpful in outreach efforts.
Other social media search engines usually get you posts, tweets, blog posts etc that contain a search string, including hashtags. Using these, you can find out what has been written around a particular topic.
However, it can be hard for social media marketers to sift through these results. There will be posts by people and brands, including news media. You cannot limit your search to brands in your industry or even just brands.
Have you met Discover?
Discover is a social media search engine like no other. Marketers use this on a daily basis to get their creative juices flowing.
Discover is different from other social search engines in the following ways:
The search results come from Unmetric's repository of branded content. You can search through over 500,000,000 pieces of content published exclusively by brands.
Here you can search for branded content published on Facebook, Twitter, Instagram and Pinterest
You can pare down to the industry or region most relevant to you
Discover allows you to sort the results based on engagement, reach, audience size or chronologically
You can even identity (and filter by) which posts around a topic or event your peers have promoted
Most importantly, Discover alerts you about content creation opportunities that are coming up in your industry
It is built to facilitate collaborative content creation. You can save posts to a board and share it with your team.
How does this help me do my job?
Data-driven approaches are key in social media marketing. Marketers are well aware of that. For this reason, they emphasize measuring and monitoring every aspect of what they post on social. Based on this historical data on engagement, reach etc, marketers can narrow down the strategies that work for them. Discover enables you to channel data-backed insights into your content creation efforts as well. Here's how:
Discover content opportunities
In the fast-paced social media space, you need to work at the speed of culture. Basing your content strategy on your historical data alone might not suffice. You need to be on the look-out for content opportunities that are popular in your industry.
For instance, if you are a North American automobile brand, here's the list of upcoming conversation opportunities Discover uncovers for you: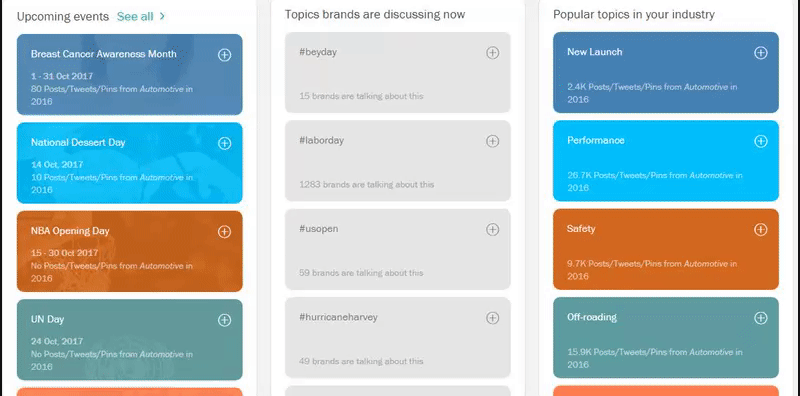 You can get a quick look at what brands in your industry are talking about. The volume of posts published by your peers around a particular event or topic is a good indicator of conversations you should participate in. Plus, you quickly find the topics that are trending. Then, you can get cracking so that you don't miss out on these conversation opportunities
You can then choose those topics and events that are most lucrative for you.
Engineer content strategy
So, as we discussed earlier Discover shows you what brands are talking about. But how can you use data to create compelling content?
Content and keyword research
First, Discover shows you what other brands have already published around a particular topic. You can look at any time period you wish, dating as far back as 2011. You can even sort them according to engagement markers such as likes, shares etc.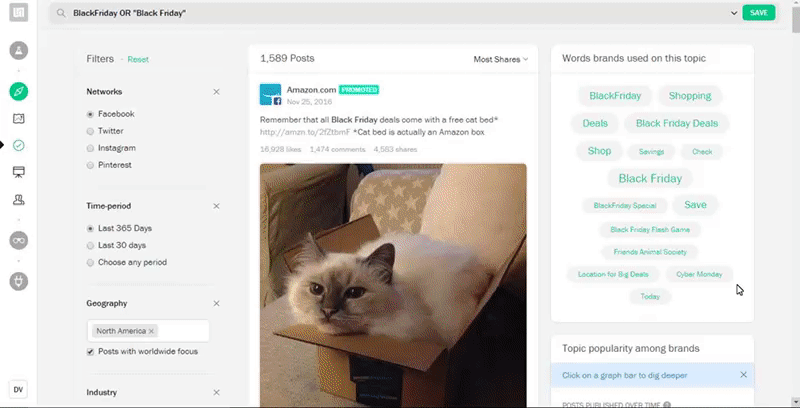 This way, you can see strategies that have resonated with your audience.
You can also take a quick look at the keywords associated with a particular event or holiday. This ensures that you don't miss out on a trending hashtag or a buzzword.
Promotion
Getting through to your audience is increasingly becoming difficult. When you have a piece of content you've put a lot of effort into, you want to increase the number of people who get to see it. This is why social media marketers are embracing promoted content.
With limited budgets, you need to make sure that you get your money's worth. While our Analyze product can give you better insights into the promotion trends in your industry, Discover also indicates which posts have money behind them.
This information can be crucial in designing your content strategy. Around major holidays such as Christmas or Thanksgiving, several brands create quality content at a lot of expenditure. They might have a branded content piece (like a holiday-themed commercial) and several smaller snippets around it that they post throughout the holiday season.
Knowing what portion of the content around a particular holiday or event was promoted and what your peers want to get across to the largest audience is intel every marketer needs to have. With this, you can streamline your promotion plan.
Plus, if you are a smaller brand and don't have budgets for promoting content, you can filter content to include just organic posts. Then, you can identify the strategies that brands used to get engagement without promotion. Check out this quick example from retail chains: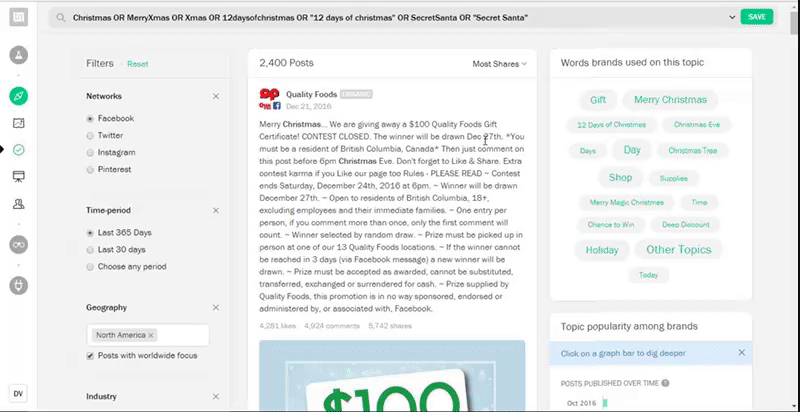 From this, contests, DIY tips, recipes and memes will be the way to go for a small retail store to get engagement with organic content.
Trends
You need to say the right things at the right time to get engagement on social media. For instance, if I started talking about Pokemon Go now (Oct 2017), nobody is going to care.
Discover gives you a quick look at the number of posts that have been posted around a particular topic month-on-month. You can also see how prolific different industries have been around events and topics.
If you are a brand in the hospitality sector, you should know when to start talking about getaways, vacations and holidays. If you wait till the holiday season sets in, you might be too late. Take a look at how the volume of posts on holidays starts increasing from June and peaks around August.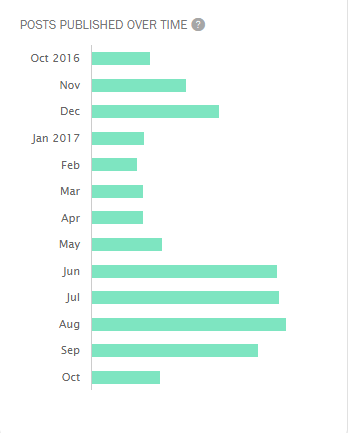 Being aware of such trends in your industry is key in getting ROI from social media.
Check for concept evidence
These features can also be used to check for proof of concept. That is, you can check how feasible a content idea you have is. You can explore of it has already been done and if so, how successful they were.
With a clear idea of what's been done and what scored engagement, you can create something distinct.
Explore white spaces
With the spread of social media, conversations are getting crowded. Brands find it difficult to say something new and stand out.
White space analysis involves identifying conversation gaps in your industry that might interest your audience. For instance, No Shave November is not a holiday you would associate with automobile brands. Check out how Jeep got great engagement talking about it:
Jeep's decision to chime in about Movember shows that they know their target audience. If a particular holiday is popular among your target audience, it makes sense to get some visibility in conversations around that.
In conclusion, Discover is the solution for every marketer who's ever wished for a Google for branded content. Using this social media search engine, they can create compelling content informed by data.